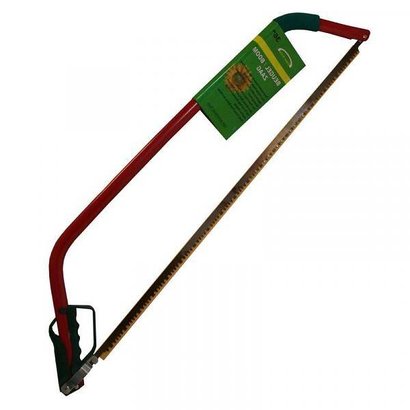 Hofftech
Green Arrow Bracket / Tree Saw 36'' (90cm)
4457
Green Arrow Bracket / Tree Saw 36'' (90cm) Saw blade length: 36'' (90 cm) Saw height: 20.5 cm Saw blade material: Hardened steel Frame material: Oval tubular steel frame Handle colour: Green Ideal for trunks and thick branches . Red lacquered With foam gr ...
More information
Product description
Bracket / Tree Saw 36'' (90cm)
Are you looking for the right tool to cut through thick branches and stumps? This tree saw is perfect for that! The tree saw has a quick-release mechanism with which you can quickly tighten the saw blades and replace them easily. The tree saw has a tubular frame that easily prevents bending and twisting of the saw blade. This is why the tree saw is also called a hacksaw. The frame has a foam grip on the other side of the saw, so you can operate the tree saw with two people, for example to saw thick tree stumps. Furthermore, the tree saw has a 36'' (90 cm) long saw blade with double hardened, rust-resistant saw teeth, which makes sawing through wet and green wood many times easier. The tree saw comes with a cover strip for over the saw teeth, which provides extra safety when you are done using the saw.
Characteristics:
Saw blade length: 36'' (90 cm)
Saw height: 20.5 cm
Saw blade material: Hardened steel
Frame material: Oval tubular steel frame
Handle colour: Green
Ideal for trunks and thick branches.
painted red
With foam grip
With green handguard
quick-release mechanism