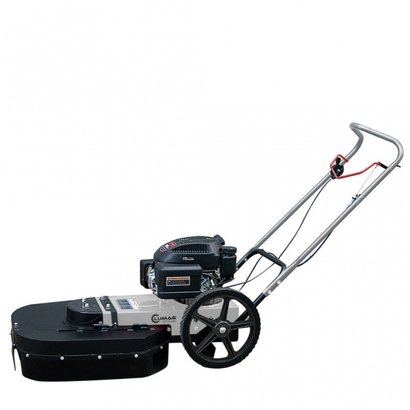 Lumag
Weed brush machine WKB-300
WKB-300
Lumag weed brush machine WKB-300 With the Lumag weed brush machine WKB-300 you can easily remove weeds and moss between your street work. the machine is supplied INCLUDING FULL PROTECTION CAP valued at € 195 ...
More information
Product description
Brand:

Lumag

EAN:

4047424006740

Article number:

WKB-300
Lumag weed brush machine WKB-300
With the WKB-300 weed brush machine from Lumag you can still remove your weeds or moss between your street work without the use of pesticides or chemicals. So you work in an environmentally friendly way and see immediate results.
The machine is equipped with 6 steel brushes that simply brush away the weeds. Because they also remove the direct layer under the weeds, it will take longer than normal for the weeds to return. You can use the machine during the entire season, so even when the first weeds or moss appears.
Because the machine works at a low speed and the pressure on the brush side is limited, the damage to your pavement will be small. The brushes can be easily removed by means of a quick coupling system.
The machine is equipped as standard with a splash guard that prevents material taken by the brush such as stones from being thrown away. This reduces the risk of injury or damage to materials or people in the environment as much as possible. To be able to brush easily along walls or along curbs, the front of the machine can be adjusted. You then place the brush well outside the wheels of the machine. For this you can simply place the side cover on the machine up or remove it.
The large wheels and powerful Loncin engine make the machine very manoeuvrable and suitable for different surfaces.
In the short term there will also be a cutting head available so that you can also mow the grass in verges or uneven ground with a nylon thread.
| | |
| --- | --- |
| Engine type | Air-cooled 1-cyl. 4-stroke OHV gasoline engine |
| Engine manufacturer | Loncin (3 year warranty!) |
| Engine capacity | 196 cm³ |
| Max power | 5 hp |
| Speed no-load | 3,600 rpm |
| Fuel type | Euro unleaded gasoline |
| Tank capacity | 1 litre |
| Starting system | Pull starter |
| Brush working width | 300 mm |
| Number of brushes | 6 |
| Brush type | Hardened steel brushes |
| Speed brush | 240 rpm |
| Protective cover | Yes, completely round the brush - partially foldable |
| Machine width | 67.5 cm |
| Weight | 60 kg |
| Art. no. | WKB-300 |
| Dimensions (LxWxH) | 1130 x 750 x 730 mm |
| Gross weight | 70 kg |
| EAN code | 4047424006740 |