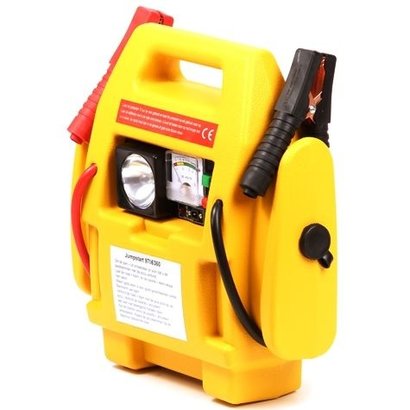 TOP GEAR
jump starter
9706360
Hofftech Jumpstart 2in1 - For cars, boats, motorcycles, lawn mowers, etc. - Versatile starting aid with lighting - Sturdy, long-range battery - Very easy to use - Brand Hofftech Germany - The perfect tool - Handy for all motorcycles ... ...
More information
Product description
Brand:

TOP GEAR

EAN:

8720211970306

Article number:

9706360
Description
This jumpstart 2-in-1 tool is a jumpstarter and emergency lighting one! From today you always have a spare battery to hand, for starting a car, motorcycle, mini tractor, boat etc. As soon as your vehicle does not want to start due to an empty battery, you realize how vulnerable you are. After all, without another vehicle in your area you are always dependent on others who may have jumper cables and time to start your car, scooter or other vehicle. This is a thing of the past because in 2015 everyone can afford a jumpstart with an internal battery, which is very handy!

Jumpstarts sounds complicated but is nothing more than putting the red cable on the plus battery pole and the black cable on the minus battery pole. Activate and start the boost function. Childishly simple! Particularly at cold temperatures it can happen that a vehicle will not start with a weak battery. With this jump start you are prepared for the winter and you can start your vehicle even in extreme temperatures. In addition, this smart jump start is equipped with a bright lamp, which is extremely useful if you need to perform a jump start or a wheel change in the dark.

In short, an all-round tool for everyone on the road.
Specifications
- Charger for 220V and 12V are supplied
- Charge indicator
- Light (3.6W)
- Starting power: max. 400 A
- Input power: 230V AC 50Hz
- Output power supply: 12V DC 500mA
- Battery: 12V 12Ah

- Peak power: 600 Amps
- Nominal power: 300 Amps
- 12V DC output with protection
- CE, TUV RoHS approved