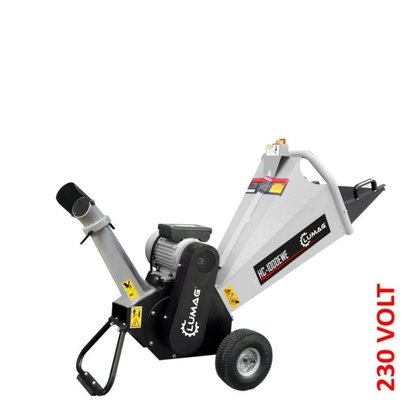 Lumag
shredder HC10E-NL
HC10E-NL
Lumag forage harvester HC10E-NL Powerful yet compact Lumag HC10E-NL forage harvester equipped with a 22000 Watt 230Volt motor and duplex manure clutter. The machine is supplied with a safety work set (glasses and hearing protectors). The throwing funnel i ...
More information
Product description
Brand:

Lumag

EAN:

4047424005965

Article number:

HC10E-NL
Lumag chopper HC10E-NL
The powerful and compact Lumag HC10E-NL shredder is equipped with a 2200 Watt 230 Volt motor and Duplex manure clutter. The 230 volt electric motor makes the forage harvester naturally a lot quieter than a forage harvester with gasoline engine. The manure drum has 2 blades. These knives run continuously past a counter blade and pull the material to be shredded into the shredder. The shredder can be used for pruning waste from shrubs to trees. The machine can easily be moved on site by the large pneumatic tires. You can easily place a wheelbarrow or collection bag under the ejector to collect the shredded material (eg wood chips).
You can of course work very safely with this machine due to all kinds of safety features. The powerful 2200 Watt electric motor in combination with the duplex drum driven by 2 drive belts, ensures that even branches up to 60 mm can be chopped (continuous 40-50 mm). The large and extra long hopper makes filling the machine very easy. The manure drum is equipped with two (reversible) blades and a counter blade. This makes HC1000-EWENL a machine that shreds everything from branches to pruning waste.
The wood chips are thrown high out of the machine through the drain pipe and the target plate determines the ejection position. The throwing funnel is hinged so that you can easily clean the drum and the ejecting funnel is adjustable so that it can be rotated in any direction. The machine can perfectly shred branches, shrubs, hedges, etc. Green waste (such as pruning waste from a conifer) can also be reduced by the shredder, but the machine is not suitable for only foliage waste (such as ferns). You can of course perfectly use the shredded material as ground cover.
| | |
| --- | --- |
| Max power | 3000 watts |
| Engine type | 230 Volt electric motor |
| Engine power | 2200 watts |
| Knife system | Duplex manure clutter |
| Number of blades | 2 pieces (duplex manure clutter), 1 counter knife |
| Speed of blades | 2,400 rev. per min. |
| Max diameter entry | 60 mm (continuous 40-50 mm) |
| Mulchen | No |
| Tires | 4.10 / 3.50 - 4 |
| Machine dimensions (L x W x H) | 1670 x 570 x 1060 mm |
| Free protection | Glasses and hearing protectors |
| Weight | 85 kg |
| Pack sizes (L / W / H) | 870 x 555 x 850 mm |
| Art. no. | HC10E-NL |