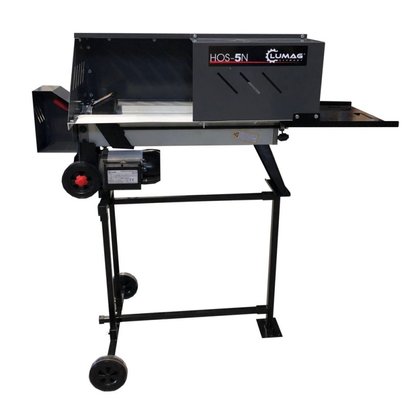 Lumag
Wood splitting machine HOS5N
HOS5N
Lumag HOS5N log splitter The Lumag HOS5N is a horizontal hydraulic log splitter with a splitting force of 5 tons. ...
More information
Product description
Brand:

Lumag

EAN:

4047424007099

Article number:

HOS5N
Lumag wood splitting machine HOS5N
The HOS5N is a horizontal hydraulic Lumag wood splitting machine with a splitting force of 5 tons. The ideal firewood splitting machine for private users and (semi) professionals. From 2019, the machine is legally equipped with protective caps that guarantee optimum safety during splitting. You can assemble these protective caps yourself and, for example, dismantle them when storing the machine. The HOS5N has a stable and torsion-free steel construction and a 2-hand safety control. The black plate on the right hand side ensures the collection of split wood.
The HOS5N comes standard with transport wheels and a handle for easy moving of this splitting machine. The machine has an adjustable return which allows you to determine how far the splitter goes back after it has cleaved the wood. If you want to split blocks of wood of 30 cm long, you can set the splitter to stop at 35 cm, for example. This means a huge gain of time.
The HOS5N can be supplied with a chassis type 5UGHOS5N (the chassis on one of the pictures is therefore not supplied as standard), so that you can split at the ideal working height. Of course you can also place the log splitter on a table or underframe that is already present at your location. We recommend using the HOS5N with a 10 meter Neoprene extension cable which is extremely suitable for the capacity of this splitting machine. See below the extension cable with article number "KAB" for further ordering information.
This log splitter also has a 5-YEAR GUARANTEE and a 30-day test right (see page for log splitters).
| | |
| --- | --- |
| Engine type | 230 Volt electric motor |
| Engine power | 1500 watts |
| Splitting power | 5 tons |
| Maximum gap length | 150 - 520 mm |
| Gap section | 50mm / 250mm |
| Max stroke length cylinder | 370 mm |
| Adjustable stroke length | Yes |
| Working speed | 3.2 cm per sec. |
| Return speed | 6.5 cm per sec. |
| Number of working speed settings | 1 position |
| Adjustable height table top | No |
| Max hydraulic pressure | 18 MPa |
| Hydraulic tank capacity | 3.2 liters max. |
| Chassis | No |
| Extension cable | No |
| Weight | 59 kg |
| Dimensions (basic position) L x W x H | 940 x 270 x 510 mm |
| Dimensions (LxWxH) | 1470 x 405 x620 mm (built up) |
| Pack sizes (L / W / H) | 990 x 260 x 470 mm |
| EAN code | 4047424007099 |
| Art. no. | HOS5N |